Join the Joyful Givers Circle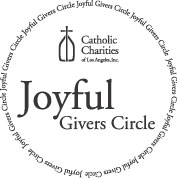 The Joyful Givers Circle is a group of dedicated contributors who provide Catholic Charities with a vital source of sustained income, which is essential to helping make a difference in the lives of thousands of people each year.
Please consider joining this special network of supporters by making an annual pledge of any amount. As a member, you would receive three pre-addressed envelopes four times per year to make monthly contributions to Catholic Charities. Through these regular donations by check, credit card, or electronic payment, you can lessen the burden of a larger, annual gift. More importantly, you can show your sustained support of Catholic Charities and the services we provide to the community.
If you are interested in becoming a Joyful Giver, please call (213) 251-3494 for more information.
"God loves a cheerful giver."

– 2 Corinthians 9:7